न हि ग्यानेन सद्रुशम् ।।

Knowledge is supreme. - Krishna, Bhagavad Gita 4.38
---
Documents : Devotional 2 : Other
---
Akshara Mana Malai - 2 : - : Roman - English
Akshara Mana Malai

Akshara Mana Malai

Thottarut kai mey kattidaa yenil,
Yaan attamaven, arul, Arunachala. 51

Oh Arunachala, If you do not merge in me,
When I extend my hands to touch you,
Then I would become, a useless thing.

Thodamini yagathodu ondri yendrum,
Chandhoda ondirda arul, Arunachala. 52

Oh Arunachala, You who are without flaws,
Merge with me from the inside and grace me,
To merge with the ever lasting joy, inside you.

Nagaikku ida milai nin nadiya venaiaru,
Nagai Yittu paar nee arunachala. 53

Oh Arunachala, this is not the time to laugh at me,
Who has sought and approached you but please see me,
After adorning me with your grace.

Nanilai naadita naanayondri nee,
Thanuva niranai arunachala. 54

Oh Arunachala, without shame you stood like a pillar,
When I came myself, seeking you, instead of helping me.

Ninneri yerithenai neeragidum mun,
Nin arun mazhai pozhi Arunachala. 55

Oh Arunachala, before I turn to ash due to your burning advice
Rain your nectar like grace on me, please.

Nee naan ara ppuli nithangali mayama,
Nindridu nilay arul Arunachala. 56

Oh Arunachala, destroy the difference between you and me,
And bless me with the state of ecstasic joy.

Nunn uruvay ninai yaan vinnuru nannida,
Yennalai yirumen ara Arunachala. 57

Oh Arunachala, please cut off my nets of thought,
That prevent me to see your subtle divine form.

Noolarivu ariya pethaiyan yendran,
Malari varuthu arul, Arunachala. 58

Oh Arunachala, grace me by cutting off my wrong knowledge,
For I am a simpleton who does not have bookish knowledge.

Nekku nekkurugi yaan pukkida unnai puga,
Nakkaha ninranai, Arunachala. 59

Oh Arunachala, when melting with emotions, I tried to enter you,
As my refuge but You stood motionless and naked before me.

Nesa mila yenakkun asayai kaati nee,
Mosam cheyyatharul, Arunachala. 60

Oh Arunachala, Do not forsake me now.
After showing your desire to me,
As I was not interested in you earlier.

Naindazhi kaniya nalanilai padathir,
Nadi ut kol nalam, Arunachala. 61

Oh Arunachala, Unripe fruits do not lead to good,
Ripen me and merge me with you.

Nondhida thunthanai thandu yenai kondilai,
Yandaka nee yenakku Arunachala. 62

Oh Arunachala, you are like the God of death me,
As you gave me yourself and painlessly took me within you.

Nokkiye karuthi mey thakkiye pakkuvam
Aakki nee aandarul, Arunachala. 63

Oh Arunachala, see me touch me and ripen me,
And then take me and then rule over me.

Pathi maal vidanthalai yuthiru munamarul,
Pathida arul puri, Arunachala. 64

Oh Arunachala, shower your grace and save me,
Before the poison of delusion gets hold of me.

Parthu arun maalara parthilai yenin arul,
Par unakkar cholvar, Arunachala. 65

Oh Arunachala, If you do not see and dispel my illusion,
Who is there, who can request you to do that.

Pithu vittu unai ner pithanakkinai arul,
Pitham theli marundu Arunachala. 66

Oh Arunachala, You cured my mad desire for the world,
And made me mad for you and your grace,
And you are the only medicine to cure this madness.

Bheethiyil unai char, bheethiyil unai cher,
Bheethi undanakka yen, Arunachala. 67

Oh Arunachala, why are you having fear to me joining you,
As I am joining you fearlessly and you are fearless.

Pullari vethurai, nallari vethurai,
Pullidave arul, Arunachala. 68

Oh Arunachala, please tell me which knowledge is bad,
And which is good and bless me to shed the bad knowledge.

Poo mana mamanam poorana manam kola,
Pooranamarul Arunachala. 69

Oh Arunachala, Bless me with complete knowledge,
For my mind is beset with the scent of this world.
And not the knowledge of perfection.

Peyar ninaithidave pidithu izhthanai un,
Perumai yaar arivaar Arunachala. 70

Oh Arunachala, You pulled me towards you,
Even when I just brought your name to my mind,
And who can ever aptly tell your greatness?

Peythanam vida, vidaa peyayi pidithanai,
Peyan akkinai yen Arunachala. 71

Oh my Arunachala, when the devilishness left me,
You firmly caught hold of me like a devil,
And made me mad for you like a devil.

Painkodi ya naan pathu indri vaadamar,
Pathu kodaay kaa varunachala. 72

Oh Arunachala, Please be a staff to support me,
As I am a tender creeper and would wilt, if I do not have a support.

Podiyaan mayaikki yen bodathai parithu un,
Bodathai kattinai Arunachala. 73

Oh Arunachala, Using the dust to make me loose myself,
And completely steal away my understanding,
You blessed me by showing, your knowledge to me.

Pokkum varavumil podu veli yinil arut,
Porattam kattu, Arunachala. 74

Oh Arunachala, In my mind which is a public road
Where there is no coming and going of thoughts,
Stage and show the clashes of your divine self.

Poudhikama mudar pathu athu nalum mun,
Pavisu kandu uravu arul, Arunachala. 75

Oh Arunachala, cut off my physical attachments,
And grace me with the splendorous sight of yours.

Malai marundhida nee malaithidavo varun,
Malai marunday olir, Arunachala. 76

Oh Arunachala, When you cured me of my disease,
Of confusion about the problems of birth and life,
Why should I bother and so please shine as the mountain of cure.

Manam kondu urubhavar manathai azhitha pin,
Manamillathu olir Arunachala. 77

Oh Arunachala, you have destroyed the ego,
Of the people who were suffering from ego,
And please shine as something beyond ego.

Minjidir kenjidum konja vari vaniyaan,
Vanchiyathu arul yenai, Arunachala. 78

Oh Arunachala, I am an ignoramus, who begs,
When some one overwhelms and rules over me,
And so without deceiving me show your grace to me.

Meegaaman illaman maa kathu alai kala,
Magamar katharul, Arunachala. 79

Oh Arunachala, Protect me from this great illusion,
When I am floundering like a ship without helmsman,
And caught amidst, the wind and storm of a storm.

Mudiyadi kaanaa mudi vidu thanai ner,
Mudi vida kada mnilai arul, Arunachala. 80

Oh Arunachala, when I am trying to untie,
The knot of ego like the one trying to find your head and feet,
Be like a mother and help me to untie the knot.

Mokilam mun kkattu mukurama kadenai,
THooki anainthu arul, Arunachala. 81

Oh Arunachala, do not show me a mirror,
To point out my absence of nose,
But raise me and hug me tightly.

Meyyagathin manamen mala ranayinaa,
Mey kalathida varul, Arunachala. 82

Oh Arunachala, in the flower bed of my mind,
Within my body, permit me to merge with you.

Men mel thazhindhdu melliyar cherndhu nee,
Menmayuthana yenna, Arunachala. 83

Oh Arunachala, how is it that you became great,
Even after again and again mixing with the poor and humble.

Mai mayanetharun maiyinal unathu,
Unamai vasamakkinai, Arunahala. 84

Oh Arunachala, after removing the collyrium of ignorant confusion,
By granting me the collyrium of your grace, you made me truly yours.

Mottai yadithennai vetta veliyineel
Nattamadinai yen, Arunachala. 85

Oh Arunachala, after completely shaving of my ignorant thoughts,
You danced in the empty stadium of my mind.

Moham thavirthun mohama vaithu men,
Moham theeray, yen Arunachala. 86

Oh Arunachala, you removed my attachment to me,
Put in there attachment to you, and by your grace,
Keep that attachment from not vanishing.

Mouniyai karpon malarathirunthaan,
Monamith aamo, Arunachala. 87

Oh Arunachala, Is it divine silence,
When one is silent and immobile like a stone?

Yavan yen vaayil maninai yatti,
Yen pizhai pozhuthathu, Arunachala. 88

Oh Arunachala, who was it, who made me good for nothing,
And robbed me of my livelihood?

Yaarumariyadhen madhiyinai marutti,
Yevar kollai kondathu, Arunachala. 89

Oh Arunachala, who was it that destroyed
My mind's confusion and robbed me for himself?

Ramanar yendru uraithen, rosam kolathu yenai,
Ramithida cheya vaa, Arunachala. 90

Oh Arunachala, I told it this way because,
I thought that you are one bewitching my mind,
And so without getting angry, make me happy.

Raa pakalilla veru veli veetil,
Ramithuduvom, vaa, Arunachala. 91

Oh Arunachala, let us both enjoy this divine happiness,
In this open house where there is no night or day.

Lakshiyamm vaithu arul asthiram vittanai,
Bakshithaay prananodu, Arunachala. 92

Oh Arunachala, you shot your arrow at me,
Keeping correct aim and ate me away along with my soul.

Labha nee ikha para labham mi lenayuthu,
Labham yennuthanaim, Arunachala. 93

Oh Arunachala, what is the profit got buy you,
Who is the real profit to those who get you,
By taking me, who does nothing here and hereafter.

Varumbadi cholilai, vanden padiyala,
Varundhidan alai vidhi, Arunachala. 94

Oh Arunachala, You only called me near you,
And now I have come, look after me and my problems,
And if you feel sad to do it, it is but your fate.

Vaa vendru agam pukkun vaazh varul endre yen,
Vaazh vizhunden arul, Arunachala. 95

Oh Arunachala, The moment I came in, when you called,
You entered in to me and showered your grace,
But I lost my selfish egoistic life.

Vittidir kattamaam vittida thunai uyir,
Vittida yarul puri, Arunachala. 96

Oh Arunachala, To leave you is difficult,
So when I leave this world, be with me,
And please bless me to be always with you.

Veedu vitteer thula veedu pukku payya vun,
Veedu kattinai yarul, Arunachala. 97

Oh Arunachala, you drew me out of my home,
And you entered and occupied the home of my mind,
And showed me, that you are my permanent home.

Veli vitten un cheyal veruthithadathu un arul,
Veli vittu yenai kaa, Arunachala. 98

Oh Arunachala, I have published your acts now,
But please do not hate me for that,
And show your grace and then protect me.

Vedanthatte verara vilangum,
Veda porul arul Arunachala. 99

Oh Arunachala, please explain to me that,
Which is the essence of all Vedas,
And which is explained in Vedantha.

Vaidhalai vazhathaa vaitharut kudiya,
Vaithenai vidathu arul, Arunachala. 100

Oh Arunachala, consider my slanderous words as praise.
And make as an object of grace and look after me always.

Ambuvi laali pola anpuruvu nilay enai,
Anbaa karaitharul, Arunachala. 101

Oh Arunachala, like the hail stones melting in rain,
Please merge me in your form of love, as your form is love itself.

Arunai yen drannayana arut kanni patten un,
Arul valai thappumo Arunachala. 102

Oh Arunachala, as soon as I thought of Arunachala,
I was caught in the net of your grace,
For the net of your grace never makes mistakes.

Chindhithu arut pada Chilandhi pol kkatti,
Cirayittu undanai, Arunachala. 103

Oh Arunachala, after great thought you spun a spider's web,
Imprisoned me and then took me within you.

Anpodu un namange, anbar tham anbarukku,
Anbanayida varul, Arunachala. 104

Oh Arunachala, please make me the friend,
Of the friend of a friend of one who chants your name with love.

Yen polum dhenarai yin pura kkathu nee,
Yennalum vazhandharul Arunachala. 105

Oh Arunachala, you please kindly protect the oppressed ones,
Like me and continue to live forever.

Yenpurukanpar tham yin chorkkal cheviyumen,
Pun mozhi kol varul, Arunachala. 106

Oh Arunachala, who hears the sweet words,
Of devotees who melt to the chore on singing of him,
Be pleased to accept the poor words of mine too.

Poumayam poo thara pun cholai nan cholap,
Poruthirulishtam pin, Arunachala. 107

Oh Arunachala who is a mountain of patience,
When I tell poor words about you make them good,
As per your wish and please pardon me.

Malai alitharul Arunachala, Ramana ven,
Malai aninthu arul Arunachala. 108

Oh Arunachala, please give me Ramana a garland and then
Please wear the garland composed by me.
E -SWARA-01-Arunachala Aksharamanamalai-part I.flv
Duration: 10.88 min
Views: 5995
Category: Music
E -SWARA-02-Arunachala Aksharamanamalai-part II.flv
Duration: 7.27 min
Views: 1951
Category: Music
Arunachala Aksharamanamalai
Duration: 20.50 min
Views: 835
Category: Music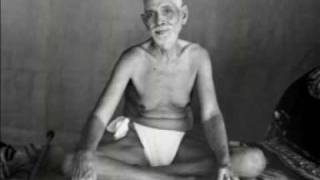 Sri Ramana Songs- Sri Arunachala Aksharamanamalai (Part 2)
Duration: 6.03 min
Views: 4325
Category: Music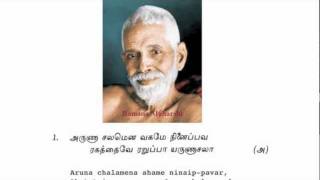 Aksharamanamalai with Tamil lyrics
Duration: 20.07 min
Views: 21569
Category: Music
11 vijaya Siva Arunachala shiva Akshara mana malai Ramana Maharshi
Duration: 4.22 min
Views: 9693
Category: Music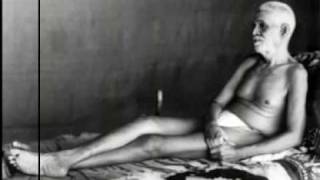 Sri Ramana Songs- Sri Arunachala Aksharamanamalai (Part 1)
Duration: 6.02 min
Views: 11330
Category: Music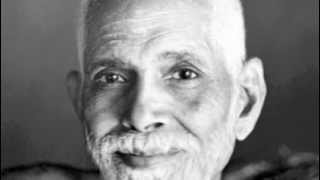 Sri Ramana Maharshi s Aksharamanamalai.m4v
Duration: 22.48 min
Views: 13269
Category: People
Documents : Devotional 2 : Other
---
Documents : Devotional 2 : Sections
---
Click any heading to sort

Section
Name
Source
Language
MByte
---