"I am the servant of the servants of the servants of Buddha. Who was there ever like Him ?—the Lord—who never performed one action for Himself—with a heart that embraced the whole world ! So full of pity that He—prince and monk—would give his life to save a little goat ! So loving that He sacrificed himself to the hunger of a tigress !—to the hospitality of a pariah and blessed him." - Swami Vivekananda
---
Documents : Devotional 2 : Vishnu
---
Krishna Karnamrutham - 6 : - : Roman - English
Krishna Karnamrutham - 6

Krishna Karnamrutham - 6

Anugathama mareenaam mambaraalabinaam,
Nayana madhurima sree narmanirmana seemnaam,
Vruja yuvathi vilasa vyapruthapangamavyath,
Tribhuvana siukumaram divya kaisorakam na. 3-51

Let the youthfulness of Krishna, which is the prettiest in three worlds,
Which is the ultimate of beauty and looks of love,
Which is also visible to the deva maidens of the sky,
And which is subject of the passionate glances of Vruja lasses, protect me.

Aapadamaa chooda mathi prakthi,
Maapeeyamaana yaminaam manobhi,
Gopi jana jnatha rasavathamdhwo,
Gopala bhoopala kumara murthi. 3-52

Let us be protected by the child form of Krishna,
Which is the king of Yadavas, which is being drunk,
By the mind of sages attracted by him from foot to head,
And which is the taste which is enjoyed by Gopis.

Dhishtyaa vrundavanamadrusaam vipra yogaa kulaanaam,
Prathyasannam pranaya chapalaapanga veecheetharaangai,
Lakshmi leelaa kuvalaya dala shyamalam dhama kamaan,
Pushniyaadhwaa pulaka mukulaa bhoga bhooshaa visesham, 3-53

Let all our desires be fulfilled by that great light,
Which due to their luck appeared, before the lovelorn doe eyed damsels,
Who were sad because of the absence of Krishna,
Which is blue like the blue lotus held by Goddess Lakshmi,
And which has the only ornament of body hairs standing erect.

Jayathi guha sikheendra pincha mouli,
Sura giri gairka kalpithanga raga,
Sura yuvathi vikeernasoonu varsha,
Snapitha vibhooshitha kunthala kumara. 3-54

Let there be victory to the young man,
Who wears the feathers of the steed of Subrahmanya as an ornament,
Who applies to his body the red paste of the sand stone of Meru Mountain,
And whose hair is drowned by the flowers rained by the deva maidens.

Madhura manda suchi smitha manjulam,
Vadana pankajamangaja vellitham,
Vijayathaam Vruja bala vadhoo jana,
Sthana thateeviluda nyanam vibho. 3-55

Let there be victory to lotus like face of Krishna,
Which is pretty due to his pure and slow smile,
Which is shaken by the effort of God of love,
And which has its eyes rolling over the breasts,
Of the young lasses of Brindavan.

Alasavilasa mugdha snigdha smitham Vruja sundaree,
Madana kadana swinnam dhanyam mahad dwadanaambhujam,
Tharuna maruna jyothsnaa kruth snasmithasnapithaa dharam,
Jayathi vijaya srenee menee drusaam madayan maha. 3-56

Let there be victory to that great light,
Which has a slow, shining, pretty smile that is full of love,
Which is coated with sweat, due to the love making with lasses of Vruja,
Which has a respected, blessed and great lotus like face,
Which has lips drenched by the slow smile,
That is youthful and red like the rising moon,
And which is the victory march of the doe eyed damsels.

Radhaa keli kadaksha veekshitha maha vruksha sthalee mandana,
Jeeyaasu pulakaanguraas thribhuvana swadheeyas thejasa,
Kreedantha prathi suptha dugdha thanayaa mughdhabha bodhakshanaa,
Thrasaa rooda drudapa goohana Ghana samrajya Rajya sriyaa. 3-57

Let there be victory to extreme joyous reaction of Joy of Krishna
Which was ornamented by the glances of Radha,
On his broad chest during love making,
And which was tightly embraced at the end of love making,
By Rukhmani, when she suddenly woke up from sleep,
Leading to the limitless and pretty sense of joy.

Smitha snutha shudha dhaaraa madha shikhandee barhangitha,
Visala nayanambhujaa Vruja vilasinee vasithaa,
Maogna mukha pankajaa madhura venu nadha dgravaa,
Jayanthi mama chethasa schira mupaasithaa vaasanaa. 3-58

Let there be victory to the thoughts in my mind about,
The dripping nectar of smile of his lower lips,
Ornamented by the feathers of a very fat peacock,
And having lotus like eyes as he is living with the lasses of Vruja,
Having a lotus like face which is attractive to the mind,
Having the essence of the music from the divine flute,
And he is the one which my mind longed very much to meditate.

Jeeyadhasou shikhi shikanda kruthavathamsa,
Saam sidhikee sarasa kanthi sudha samrudhi,
Yad bindulesa kanikaa parinaama bhagyath,
Soubhagya seema pada manchathi Pancha bana. 3-59

The god of love with five arrows with him got,
His beauty by a small portion of a drop of nectar,
But Krishna wearing the peacock feather in his head,
Naturally has lots and lots of nectar of joy and let him be victorious.

AAyaamena drusor visala tharayo rakshayai mardhra smitha,
Cchaya darshithasaradendu lalitham chapalya mathram shiso,
Aayaasanaparaan vidhooya rasikai raswadhyamaanam muhoor,
Jjeyaa dhunmadha vallavi kucha bharaa dharam kisoram mahaa. 3-60

Let there be victory to the light in the form of a child,
Which is ever full by the length of its broad eyes,
Which defeats the autumn moon by the light of its smile,
Which is the personification of the plays of children,
Which is being enjoyed by connoisseurs again and again,
By leaving out jobs which are hard to perform,
And which lives on the breast of Gopis who are proud of their youth.

Skandavara sadho prajaa kathipayegopaasahaayaadhaya,
Skanda lambhini vathsa dhamni dhanadhaa gopanganaa swanganaa,
Srungara giri gowrikam shiva shiva sreemanthi barhaani cha,
Srunga graahikaya thadhaapi thadhidham prahu striloj=keswaram. 3-61

Though his subjects are people living in huts,
Though his friends are few cowherds,
Though his garland is the rope used to tie the cows,
Though the people paying tribute to him are his cowherdesses,
Though his ornaments are peacock feathers and red stone from mountain,
And though the real truth about him is like this,
This Krishna is called the Lord of three worlds.

Srimad barhi shikhanda mandana jushe shyamabhi rama thwishe,
Lavanaya kara sava siktha vapushe lakshmee sara praavrushe,
Leela krushta rasagna dharma manase leela mrutha srathase,
Ke vaa na spruhayanthi hantha mahase gopi jana preyase. 3-62

Who ever would not desire that light desired by Gopis,
Which uses pretty feathers of peacock as ornament,
Which is blue in colour and is having the dazzle dear to the mind,
Which has a form of pretty principle spread every where,
Which is the rainy season for the lake called Lakshmi,
Which attracts the mind of people interested only in play,
Which has flowing nectar like ebb of series of plays,
And which is the sweet heart of Gopis.

Aapataladhara madheera vilola nethra,
Maamodha nirbharithamadbutha kanthi pooram,
Avismithamruthamanusthu, thilobhaneeya,
Mamudhri thananamaho madhuram murare. 3-63

Who will not want to see forever the sweet light of the God,
Which has red lips, which has shifting eyes similar to a coward,
Which is full of the wonderful light that is full of joy,
And which has the nectar of smile and has a face filled with joy.

Jagruhi jaagruhi chethaschiraaya charitharthadha bhavatha,
Anubhooyatha midham midham pura sthitham poorna nirvaanam. 3-64

Awake, awake, oh mind for you are getting result of good acts, after lot of time,
See, see and enjoy as much as you like of this complete detachment of actions.

Charanayor arunam karunardhayo,
Kacha bhare bahulam vipulam druso,
Vapushi manjula manjana mechake,
Vayasi balamaho madhram maha. 3-65

This light like form of Krishna is wonderful,
For it has red colour on feet cooled by mercy,
No space between hair locks, has breadth in his eyes,
Prettiness in the body as black as black collyrium,
And also youthfulness in his age.

Maalabarha manogna kunthala bharam vanya prasoonokshithaam,
Shailyadrava kliptha chithra thilakaam sasvan manohaarineem,
Leela venu ravamyathaika rasikaam lavanya Lakshmi mayeem,
Baalaam bala thamala neela vapusham vande param devathaam. 3-66

I salute that divine Goddess, who is in her youth and is blue in colour,
Whose bewitching hair is decorated by peacock feathers and flower garland,
Who is decorated by forest flowers, who is always pleasant to the mind,
Who puts red decorative thilaka from the paste made of mountain stone
Who gets enraptured in the nectar of the music from the flute,
And who is Lakshmi, the personification of great beauty.
Note. This is another prayer addressed to Bala Gopala Sundari.

Guru mrudhu pade gadam gulphe ghanam jagana sthale,
Nalinamudhare deergham baahwotr visalamura sthale,
Madhura madhure mugdham vakthre vilasi vilochane,
Bahu kucha bhare vanyam veshe manogna maho maha. 3-67

This form of great light, which is sweet to the mind,
Which has firmness in the tender feet, fleshiness in the calf,
Thickness in the hips, lotus in the stomach,
Length in the arms, breadth in the chest,
Sweetness in the lips, dense nature of the hair,
Youthfulness in the face, shine in the eyes,
And uses forest products for decoration, is indeed wonderful.

Jihaanaam jihaanaam sujaanena mougdhyam,
Duhaanaam duhaanaam sudhaa venu nadhai,
Lihaanaam lihaanaam sudeergairapangai,
Mahananda sarvasva methannamasthaam. 3-68

I salute the principle which is the total divine joy,
Which is crossing the childhood slowly and slowly due to onset of youth,
Which by the songs on the flute is increasing more and more nectar,
And which by his very long eyes again and again blesses the surroundings.

Lasad barha peedam lalitha lalitha smera vadanam,
Bramath kreedaapangam pranaya janathaa nirvruthi padam,
Navambhodha shyamam nija madhurima bhoga bharitham,
Param devam vande parimilithakaisoraka rasam. 3-69

I salute Lord Krishna, who is full of happiness of childhood,
Who wears shining peacock feather on his head,
Who has a face which has a very pretty smile,
Who has a rotating side long glance from his eyes,
Who grants great happiness to those who surrender to him,
Who is of the blue colour of the newly formed cloud,
And who is fully complete due to his own personal sweetness.

Sarasya samgryami vaannena,
Madhurya chathuryamiva smithena,
Tharunya karunya mivekshithena,
Chaplya saphalya midhamdrusormay. 3-70

With a face which is complete with prettiness,
With a smile which shows the capability of sweetness,
And with a vision reflecting youthfulness of mercy,
His form fulfills the avarice of my eyes.

Athra vaa thathra vaa deva,
Yadi viswasi masthayi,
Nirvanamapi durvaara,
Marvaa cheenaani kim puna. 3-71

Oh Krishna If at any time I have full faith in you,
Then I would get salvation and is it necessary,
To tell that other small pleasures would automatically follow?

Ragaandha gopi jana vandhithaabhyaam,
Yogeendra brungendra nishevithaabhyaam,
Aathamra pangeruha vibhramabhyaam,
Swamin, padhabhyaam mayam manjalisme. 3-72

Saluted by Gopis who are blind with passion,
Served by the sages who like are going round like bees,
And shining red like the lotus flowers,
Are your feet, Oh lord and my salutations to them.

Arthaanulaapaan Vruja sundareenaam,
Akrithrimanancha saraswatheenaam,
Ardhraa sayena sravanchalena,
Sambhavayantham tharunam graneema. 3-73

We salute that lad Krishna,
Who honours the beauties of Vruja,
Who indicate their needs,
By non artificial and intelligent words,
After listening to them with interest.

Manasi mana sannidathaam,
Madhura mukhaa mandharaa pango,
Kara kalitha lalitha vamsaa,
Kaapi kisoraa krupaa lahari. 3-74

Let the flood of mercy,which cannot be properly described,
Which has a sweet face, which has a pretty flute in his hand,
And which is like that of a child, be permanently in my mind.

Rakshanthu na shiksithapaasu paalya,
Baalya vruthaa barhgi shikhavathamsaa,
Prana priyaa prasthutha venu Geetha,
Seethaa drusso sithala gopa kanyaa. 3-75

Surrounded by Gopalas trained in the art of minding the cows
His hair decorated by the peacock feathers,
And with the tunes of his flute which are greater than soul,
And his heart warming up by plays with Gopis,
Is Krishna and may he protect us.

Smitha sthabakithadharam sisira venu nadhamrutham,
Muhoostharala lochanam madha kataaksha mala kulam,
Urasthula vileenaya kamalayaa samalingitham,
Bhuvasthula mupaagatham bhuvana daivatham pathu na. 3-76

Let us be protected by the God of this world,
Who has lips which are smiling,
Who plays cool nectar of music from his flute,
Who has eyes which travel hither and thither,
Who has side long glances with the pride of youth,
And who is being embraced by the goddess Lakshmi on his chest.

Nayanambhuje bhajatha kamaduham,
Hrudayambhuje kimapikaruneekam,
Charanambhuje muni kulaika dhanam,
Vadanambhuje Vruja vadhoo vibhavam. 3-77

Seek,the Lotus like eyes granting desires to devotees,
Lotus like heart which is full of mercy.
Lotus like feet which is incomparable wealth of sages,
And the lotus like face being the wealth of Vruja lasses.

Nirvasanam hantha rasantharaanaam,
Nirvana samrajya mivava theernam,
Avyaja madhurya maha nidhaana,
Mavyath Vruja nama adhi daivatham na. 3-78

Let us be protected by that taste which drives away all tastes,
That state which is like the complete pleasure of salvation coming down,
That place of stay of natural sweetness,
And that concept of Krishna which has come down to Gokula.

Gopinaamabhi matha Geetha vesha harshaad,
Aapeena sthana bhara nirbharopa goodam,
Keli namvathu rasai roopasyamanam,
Kalindhi pulinacharam param maho na. 3-79

Let us be protected by the incomparable light,
Which hides as it is tightly embraced by the breasts of Gopis,
Who are interested in music and dressing up,
Which is being worshipped by the pleasure of their love play,
And which is interested in wandering in the sand dunes of Yamuna.

Khelatham manasi khecharaangana,
Mananeeya mrudu venu niswanai,
Kanane kimapi na krupaspadam,
Kala megha kalohadwaham maha. 3-80

Let our mind become the play ground of the incomparable light,
Whose softness is appreciated by deva damsels traveling in the sky.
By the music that he plays on his flute in the forest,
Whose blue body colour competes with the dark clouds,
And who is the source of all the mercy.

Yenishabha vilochanaa bhira lasa sreni bhara proudibhir,
Veni bhootha rasa kramaa bhira bhitha sreni krthabhir vithaa,
Panee dwou cha vinodhaya dradhipathe sthoonisayai sayakair,
Vani nama padam param vrujapathi kshoneepathi pathu na. 3-81

Let us be protected by the Lord of the kingdom of Vruja,
Who is surrounded on all sides by the Doe eyed Gopis,
Standing line by line with pretty heavy and slow moving hips,
And with a pretty walk that increases the passion,
Who increases the happiness of the hands of the god of love,
By allowing him to use the flower arrows that are in his arrow case,
And who cannot be adequately described in words even by Goddess Saraswathi.

Kaalindi puline thamaala nibhidacchaye pura sancharath,
Thoye thoyaja pithra paathra nihitham dadjyannamasnothi ya,
Vaame paanithale nidhaya madhuram venum vishaanaam katee,
Pranthe ghaascha vilokayanprathikalam tham balam aalokaye. 3-82

I always see in my mental eyes, that child Krishna,
Who eats the rice mixed with curd in the vessel made of lotus leaf,
In the sands of Yamuna, in the shade of thamaala tree, with water flowing in front of him,
Who holds the sweet flute in his left hand, who keeps horns on one side of his hip,
Besides looking after the cows in the grass land properly.

Yad gopi vadanendu mandala mabhuth kasthurikaa pathrakam,
Yallakshmi kucha satha kumbha kalasa vykochamindee varam,
Yan nirvana nidhaana sadhana vidhou, sidhasanam yoginaam,
Tannashyamala mavirasthu hrudaye krishnabhidhaanam maha. 3-83

Let that divine light which is called Krishna, who is black,
Who is the musk thilaka on the face of Gopis with the shine of moon,
Who is the Indhivara flower that opened in the golden pot of Lakshmi's breasts,
And who is the divine black ointment to find out the treasure of salvation to sages.

Phullendeevara mindu kanthi vadanam barhavatham sapriyam,
Sri vathsanga mudhaara kousthubha dharam peetambaram sundaram,
Gopeenaam nayanothpalarchitha thanum go gopa sanghavrutham,
Govndam kala venu nadha rasikam divyanga bhoosham bhaje. 3-84

I pray Govinda who likes the sweet songs of the flute,
Whose body is well ornamented, who is of the colour of fully open blue lotus,
Who has a face like moon, who lovingly wears peacock feathers on his hair,
Who has the mole called Srivathsa on his chest,
Who wears the emerald called Kousthubha on his neck,
Who wears yellow silk, who is very pretty,
Who is being worshipped by the blue lotus flower like eyes of Gopis,
And who is completely surrounded by cows and cowherds.

Yannanbhi sarasiruhaanthara pute brungayamano vidhir,
Yadwaksha kamala vihaara bhavanam yachakshushichendwinou,
Yath padabja vinasrutha sura nadhi shambho shiro bhooshanam,
Yannama smarnam dhunohi duritham payaad sava Kesava. 3-85

Let all of us be protected by the Lord Kesava, in whose case,
On the inner petals of the lotus generated on whose stomach, Lord Brahma is a bee,
On whose chest goddess Lakshmi shines and whose eyes are the moon and the sun,
The divine river originating from whose feet became an ornament of the head of Shiva,
And by meditating on whose name all sins are removed permanently.

Rakshanthu thwaamasitha jalajai ranjalee pada mole,
Menaa nabhi sarasi hrudhaye maarabanaa murare,
Haara kande hari mani maaa vakthra padme dwirephaa,
Pinchaa bhooshaschikara nichaye gosha yoshin kadakshaa. 3-86

Let you be protected by the sidelong glances of Gopis,
Who wished to be salutations by blue lotus flowers below Krishna's feet,
Who wanted to be fishes in the pond of his belly,
Who wanted to be the arrows of God of love on his chest,
Who wanted to be garlands made of emeralds on his neck,
Who wanted to be bees circling his lotus like face,
And who wanted to be peacock feathers ornamenting his hair.

Dhadhi madhana ninadhai sathyaktha nidhraprabhaathe,
Nibhrutha pada magaaram vallaveenaam pravishta,
Mukha kamala sameerai rasu nirvanya dheepaan,
Kabhalitha navaneetha pathu Gopala bala. 3-87

Let us be protected by the child Gopala,
Who woke up in the mornings due to the sound of churning of curds,
Who entered the house of Gopis without making noise,
And put out the lamps there by the wind from his lotus like mouth,
And went on gobbling the fresh butter there.

Pratha smarami dhadhi gosha vineetha nidhra,
NIdhravasana ramaneeya mukharavindam,
Hrudhyanvadhya vapusham nayanabhi rama,
Munnidhre padma nayanam navaneetha choram. 3-88

I meditate in the morning the butter Thief Krishna,
Who woke up in the morning due to sound of churning curds,
Who has a very fresh and pretty face at the end of the sleep,
Who has a faultless body which is sweet to the mind,
And who has a set ofbewitching eyes which are like just opened lotus flowers.

Phulla hallaka vathamsakollallasad,
Galpamagama veega veshitham,
Vallavee chikura vasithaangulee,
Pallavam kamapi vallavam bhaje. 3-89

I sing about some cowherd boy,
Who wears red hallaka flowers in his ears,
By which both his cheeks are shining,
Who is searched by the words of Vedas,
And whose tender fingers has the sweet scent,
Due to the contact with the hair of Gopis.

Stheyam hare harethi yannavaneetha chouryam.
Jarathwa masya guru thalpa kruthaaparadham,
Hathyaam dasananaa hathir Madhu pana dosham,
Yath poothana sthana paya sa punathu Krishna. 3-90

Let us be made pure by that Krishna.
The thought of whose stealing butter removes the sin of theft,
The thought of whose illicit love removes the sin committed towards teacher,
The thought of killing of Ravana removes the sin of murder,
And the thought of his drinking Poothana's milk, removes the sin of drinking.

Maara, maa madheeya manase,
Madhavaika nilaye yadruchaya,
Sri rama pathi rihaaga medhasou,
Ka sahetha nija vesma langanam, 3-91

Oh God of love, do not live in my mind,
Where only Lord Krishna can live,
For without notice, he would come there,
And he may not tolerate your living in his house!

AAkunchitham janu karam cha vamam,
Nyasya kshithou Dakshina hastha padme,
Aalokayantham nava neetha khandam,
Balam mukundam manasa smarami. 3-92

I meditate on that child Krishna,
Who is moving on both his knees,
With his left hand on the floor,
And staring at the butter in his lotus like right hand.

Janubhyam abhidavantham. Panibhyaam athiu sundaram,
Sakunda lalakam Balam, dhyoyomyushassi Balakam. 3-93

I daily think about that child Krishna,
Whose ear studs and curly hair keep on moving,
Who stands on his knees and hands on the floor,
And who is an extremely pretty sight.

Vihaaya kodanda sarou muhurtham,
Grahaana panou mani charu Venum,
Maayura barhancha nijothamange,
Sita pathe twam pranamami paschad. 3-94

Oh consort of Sita, for now,
Keep away your bow Kodanda,
And take in your hands the pretty flute,
And also wear the peacock feathers on your head,
And then surely I will salute you.

Ayam ksheerambodhe pathirithi gavaam palaka ithi,
Sritho asmabhi ksheeropa nayana dhiyaa gopa thanaya,
Anena prathyooho vyarachi sathatham yena janani,
Sthanaa dhapyasmaakam sakrudhapi payo durlabham abooth. 3-95

We relied on him because this cowherd being the lord of the sea of milk,
And the protector of cows, we would be getting lot of milk to drink,
But we found lot of problems for getting milk,
And even getting milk from mother's breast also has become difficult.*
*we will not have further birth and so no mother's milk.

Hastha makshipya yaatho asi Bala krisna, kim adbhutham,
Hrudhyaadhyadhi niryaasi pourusham ganayami they. 3-96

I am not surprised because you left the hold of my hand and went away,
For, I would respect your masculinity, if you manage to go away from my heart.

Thamasi ravi rivodhyam majjatha mambu raasou,
Plava iva thrushithaanaam khadu varshiva megha,
Nidhirivavidhanaanaam deerghatheevraamayaanaam,
Bhishagiva kusalam nodathu maayathu souri. 3-97

For doing good to us let Krishna come,
Who is like a rising Sun in the dark,
Who is like a boat to those who drown in sea,
Who is like cloud giving tastey rain to those who are thirsty,
And who is like a doctor to those, who suffer long time diseases.

Kodandam masrunam sugandhi vishikham chakrabja pasangusam,
Haimim venulathaam karaischa dadhatham sindhoora unjarunam,
Kandharpadhika Sundaram smitha mukham gopangana veshtitham,
Gopalam sathatham bhajami varadam trilokya raksha manim. 3-98

I meditate always on the Gopala*,
Who holds the bow, scented flower arrows,
Wheel, conch, goad, and a golden flute,
Who is reddish like saffron,
Who is prettier than God of love,
Who has an ever smiling face,
Who is surrounded by Gopi lasses,
Who is a protection for the three worlds,
And one who gives boons to those who ask.
*This prayer is addressed to Bala Gopala Sundari.

Sayankale vananthe kusimitha samaye saikathe chandrikayam,
Trilokyakarshanangam, sura vara ganika mohanaa panga murthim,
Sevyam srungara bhavair nava rasa bharithai gopa kanya sahasrai,
Vandeham rasakeliratha mathi subhagam vasya gopala krishnam. 3-99

I salute the very pretty cowherd Krishna, who likes rasa kreeda,
Who can be made as their own by his devotees,
Who has a form that attracts all the three worlds in the flower opening times,
In the evenings at the garden in the moon light and on the sand hills,
Who has a form and glance which will make lasses of heaven and earth swoon,
And who is surrounded by thousands of passionate gopa lasses with newer and newer tastes.

Kadamba mole kreedantham vrunda vana nivesanam,
Padmasana sthitham vande venum gayanthachyutjam. 3-100

I salute that Achyutha who plays on the flute,
Who plays below a Kadamba tree,
Who lives in Brindavan,
And who sits on a lotus pose.

Balam neelambhudhabham nava mani vilasad kinkini jala badham,
Sroni jangantha yugmm, vipula gurunakhaprollasath kanda bhoosham,
Phullamboja vakthram hatha sakata maruth poothanadhyam prasannam,
Govindam vandhithendraadhyamaravara majam poojayedh vasaradhou. 3-101

We have to worship, at beginning of the day, the birth less child Gopala,
Who is of the colour of blue cloud, who ties in his hips a gem studded belt with bells,
Who has two calves, who wears in his neck a quality tiger's nail,
Who has a face that is like a fully opened lotus flower,
Who killed Poothana, Trinavartha, sakatasura and other asuras,
Who has a smiling face and is being worshipped by Indra and other devas.

Vandhyam devair mukundam vikasitha kuru vindhabha mindi varaksham,
Go gopi vrunda veetham jita ripu ivaham, kunda mandhara haasam,
Neela grevaa grapincha kalana suvilsad kunthalam bhanu mantham,
Devam peethmbaradyam japa japa dhinaso madhymahne ramayai. 3-102

We have to daily chant and chant during noon for getting wealth,
That name of God Mukunda who is being saluted by devas,
Who shines like the kuruvinda flowers,
Who has eyes like blue lotus, who is always surrounded by cows and Gopis,
Who has won over hoards of enemies, who smiles with teeth which are like jasmine buds,
Who is very pretty being decorated by the feathers of the peacock,
Who has a pretty hair on his head, who is shining in his yellow silk dress.

Chakrandha dwastha vairee vrujamajitha mapaa sthavanee bhara maddyai,
Raveetham naradhadhyai unibhira bhinutham thatwa nirnothi hetho,
Sayahne nirmalangam nirupama ruchiram chinthayen nila bhasam,
Mathree viswodhayasthithyapaharana padam mukthidhm vasu devam. 3-103

We have to daily meditate during the evenings, the mantra of son of Vasudeva,
Who drove off the enemies of Vruja by the edge of the holy wheel,
Who can never be defeated, who reduced the burden of mother earth,
Who is surrounded by primeval gods, who is being praised by,
Narada and other sages for determining meaning of philosophy,
Who has a pure form, who is of incomparable prettiness,
Who is of blue colour, who is the cause of birth, upkeep and death of the world,
And who is the one God who grants salvation to his devotees.

Kodanda maikshava makhanda mishum cha poushpam,
Chakrabhja pasa sruni kanchana vamsa naalam,
Bhibrana mashta vidha bahubir arka varnam,
Dyayedwarim madana gopa vilasa vesham. 3-104

Afterwards we have to meditate on the form of Krishna,
Who holds the unbreakable Kodanda bow,
The arrow made of flowers, the holy wheel, the conch, the rope,
The goad and the flute made of gold in his eight hands,
Who is of the red colour of the rising sun god,
And has put on the form of God of love who is a cowherd.
This is considered as the manthra of eight handed madana Gopala Sundari.

Angulyaa, ka kavadam praharathi, kutile.Madava kim vasantho,
No chakri, Kim kulalo, na hi dharani dhara, kim dwijihwa, Phaneendra,
Naham darahimardhim kimasi, khagapathir no, hari kim kapeendra,
Ithyevam gopa kanya prathivachana jitha pathu vas chakra pani. 3-105

Who knocked my door? Hey rascal girl, it is Madhava,
Is it the spring? No, it is the holder of wheel,
Is he a potter with a wheel? No, no, he is the one, who holds the mother earth,
Is he the snake with two toungues? No, he is the one, who defeated the snake in the river,
Is he the king of birds, the Garuda? No, he is hari,
Are you then you are indeed a monkey, Thus Krishna was defeated in repartee
By the gopa lass and let him save us.
(This is in the form of teasing conversation between a gopa lass and Lord Krishna. Madhava also indicates spring, Dharanidhara can be Adhi sesha the snake and hari also indicates a monkey)

Radha mohana mandhiraadhupa gathas chandravaleemoochivaan,
Radhe kshema maye, asthi thasya vachanm, sruthwaha chandravali,
Kamsa Kshema maye vimugdha hrudhaye kamsa kwa drushtathvaya,
Radhaa kwethi vilajjitho natha mukha, smero hari pathu na. 3-106

Coming out of the pretty house of Radha, Krishna asked Chandravali,
Hey Radha, how do you do? and hearing those words,
Chandravali asked him, Hey Kamsa, how do you do?
And then he asked, Oh girl who has lost her senses,
Where did you happen to see Kamsa, and she retorted,
In the same place where you happened to see Radha,
And Krishna became shy and bent his head and,
Let that Krishna who is shy, save us from everything.
(Chandravali is a gopa lass in love with Lord Krishna)

Ya prerthir vidhurarpitho, mura ripo, kundhyarpithe yaa drusee,
Yaa Govardhana moordhni yaa cha pradhuke sthanye yasodharpithe,
Bharadwaaja samarpithe sabhaikaadathodhare yoshithaam,
Yaapreethir muni pathnibhakthi rachithe, apyathraapi thaam thaam kuru. 3-107

Let this work done by me, be as dear to you,
As the food offered to you by Vidhura,
The food and offerings by Kunthi,
The food offered to you on Govardhana by the gopa boys,
The beaten rice offered to you by your friend Kuchela,
The breast milk of Yasoda, the hospitality of sage Bharadwaja,
The fruit offered by Shabari, the lips of the lasses who loved you,
And the love, hospitality and offerings of the wives of sages.

Krishanu smarana deva, pada sangatha panjara,
Sathadhamedha maayathi, girir Vruja hatho yadha. 3-108

The iron cage of the collection of our sins,
Would break in to hundreds of pieces,
Like the mountain subjected to Vajrayudha,
If we continuously keep thinking of Krishna.

Yasyathma bothasya guro prasada,
Dahm vimukthosmi sareera bandhanath,
Sarvopadheshtu purshothamasya,
THasyangri padmam pranathosmi nithyam. 3-109

I salute that feet of Purushothama, who is the teacher of all,
And who is my soul like teacher who helped me to get freedom from bondage.

Ithi Sri Krishna karnamruthe threethyaswasa samaptham.
Thus ends the third chapter of the neater to ears of Krishna.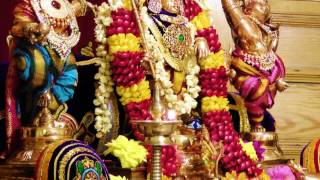 Nectar to the Ears of Lord Krishna (Sanskrit Shlokas) - "Sri Krishna Karnamrutham" (Leela Shuka)
Duration: 42.55 min
Views: 841
Category: Nonprofit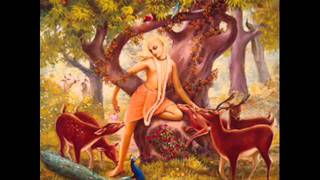 krishna karnamrutham 36 50 part4
Duration: 16.70 min
Views: 94
Category: Nonprofit
Srikrishna Karnamrutham
Duration: 9.13 min
Views: 17922
Category: People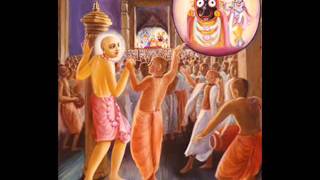 KrishnaKarnamrutham - Aaswasa-I(sl. 11 to 22)
Duration: 14.38 min
Views: 158
Category: Nonprofit
Srikrishna Karnamrutham
Duration: 6.63 min
Views: 20481
Category: Howto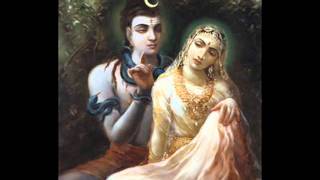 KrishnaKarnamrutham - Aaswasa-II(sl. 66 to 80)
Duration: 13.30 min
Views: 106
Category: Nonprofit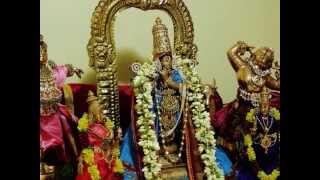 Collections of Hymns on Sri Krishna - "Garland to Mukunda" (Sacred Chants on Sri Krishna)
Duration: 15.30 min
Views: 119
Category: Nonprofit
Krishnakarnamrutham of Leelasukha - Krishna Maadhurya
Duration: 2.70 min
Views: 86
Category: Music
Documents : Devotional 2 : Vishnu
---
Documents : Devotional 2 : Sections
---
Click any heading to sort

Section
Name
Source
Language
MByte
---